Conferences and COVID-19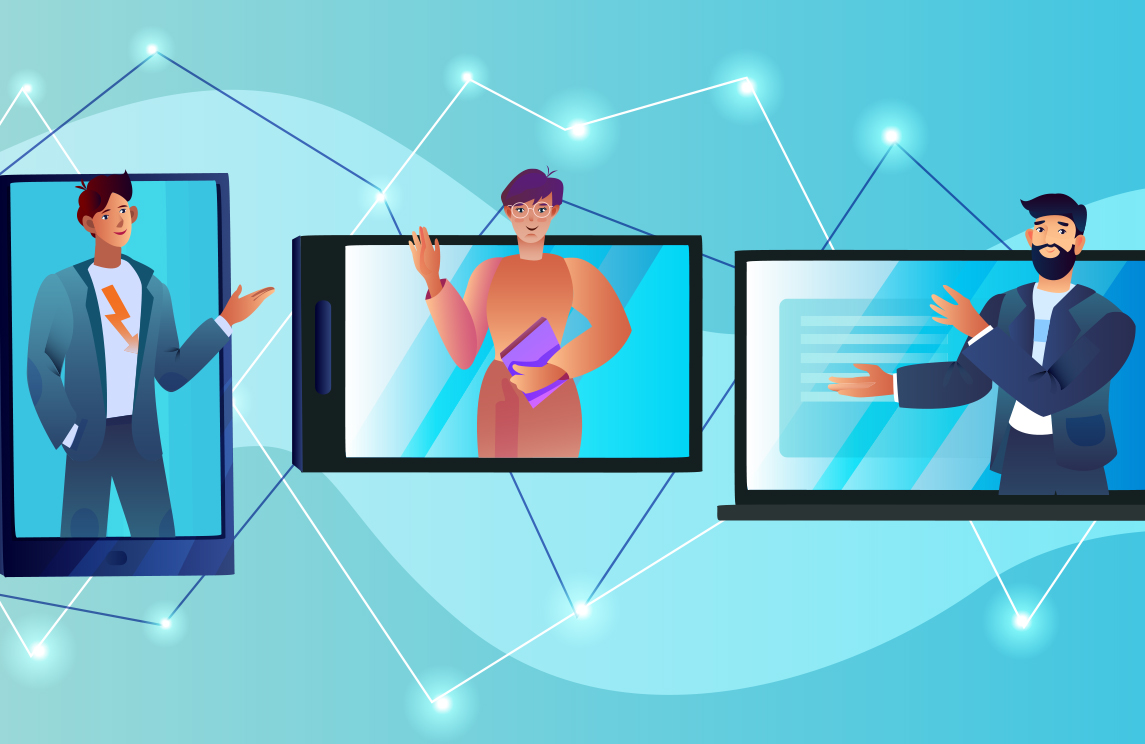 TRADITIONAL TRADE SHOWS
Traditional trade shows are a vital part of every marketing strategy. A convention hall filled with a targeted group of people all walking around eager to learn, and get the SWAG at each booth – it's every sales and marketing departments' dream. According to a 2019 survey done by Demand Gen Report, 76% of companies surveyed said in-person events were the most successful top-of-the-funnel marketing tactic for generating qualified leads. And beyond that, 64% of respondents said in-person events helped to convert leads further down the funnel, making events the tactic with the broadest consensus of success among all the tactics included in the survey (listed in the chart below). And it's really no surprise in-person events are so successful. It's easy for a prospective customer to ignore an email at an inconvenient time. But with trade shows and conferences, everyone has chosen to be there hoping to find the next big product or service. And the human aspect offers easy product demos, Q&A and even pricing information.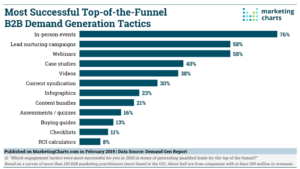 COVID-19 CURVEBALL
But COVID-19 has thrown a serious curveball to the conference and trade show market. Most of the events planned for March – July of 2020 were cancelled and the events scheduled for the remainder of the year converted to virtual. According to this Forbes article, virtual events have increased 1,000% and virtual event platform 6Connex has seen more than 52,000 events since the rise of COVID-19. Unfortunately, it doesn't appear things will get any better in the new year. PwC estimates the US trade show market, cut by almost two-thirds this year, won't likely recover until after 2024.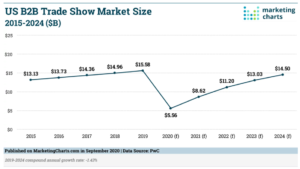 OUR EXPERIENCES
Over the past month, Christina, Jayna and Stephanie have all attended virtual events and recapped their experiences.
SMALL BUSINESS EXPO
Christina attended the virtual Small Business Expo on September 29th. It was her first time participating in a virtual conference, and her first time attending this particular event. The conference had just about everything an in-person event has to offer. There was an exhibit hall where you could visit each booth, talk to a representative, watch a video and download marketing materials. It was easy to use, and attendees earned points for visiting booths, watching videos, downloading materials and more. At the end of the event, the attendee with the most points won a prize. There was a leaderboard screen showing everyone's point total and it did turn the conference into a fun competition.
Booths in the Exhibit Hall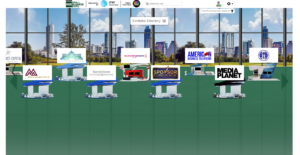 Inside a Booth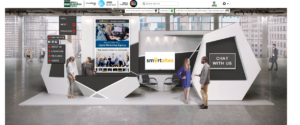 The Workshop Hall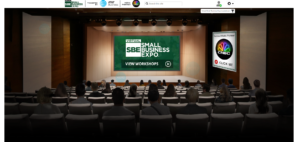 There were also keynote speakers and breakout sessions offered to attendees. Christina attended three of the workshops and while they were interesting, it was easy to get distracted or pulled away from the screen while at home. Aside from that, the platform worked well, and there were no audio and streaming issues that held up the sessions.
"It was interesting listening to the keynote speakers, one of whom I've seen speak in person, and get new ideas right in my kitchen! It got me thinking about potential strategies I didn't know were possible, and that I hope to be able to use in the future."
Overall, it was a good first virtual experience. The booths offered more information than expected and the platform was easy to use. The only thing missing was the interaction. Talking to people face-to-face that sparks a connection. The event offered a speed-networking opportunity, but that can be intimidating and less relaxed than starting a conversation waiting for a session to start or walking around the convention hall.
ADOBE MAX
Stephanie attended Adobe Max, a creative conference focused on graphic design, photography, video, social media and UI/UX design. It was her first time attending the conference, and she found the virtual aspect had its pros and cons. It was nice to be able to 'attend' from home, instead of having to travel. There were celebrity spotlights and insights into new Adobe technology. The conference had a large selection of sessions to choose from, and offered a schedule search to help narrow down sessions based on interest and experience level.
"They really highlighted working collaboratively in remote settings; and the tools to help you do it the most efficiently. I also liked that they really opened up about inclusion in the workplace, and how to advocate for diversity."
However, due to the event being free the conference had an overwhelming amount of participants, which flooded the scheduling dashboard with too much traffic. This large amount of traffic made attendees unable to access their schedules and sessions they had registered for. She also missed the collaborative in-person aspect of a conference. Even with these few annoyances, Stephanie said she would attend the event virtually again next year.
DIGITAL PM SUMMIT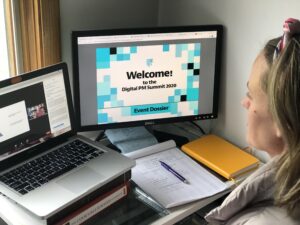 Jayna attended the Digital PM Summit and had a great experience with the event. The topics presented were very relevant, not only to the Digital Project Manager position, but also timely with current issues (i.e. diversity and inclusion). In spite of the virtual aspect, she was still able to connect with several other Project Managers, presenter, etc. and came away with many valuable takeaways, including tips, tools, book recommendations and other resources to help her, and our team, grow both professionally and personally.
"I am grateful to be a part of a company that values both professional, and personal growth. This conference was exactly the nudge I needed to commit to learning and growing that will make me a better DPM. Since the conclusion of the conference, I have been so excited to share my experience and takeaways with my team as many of the topics are universal to DPMs, directors/principals, designers, developers, etc."
The only negatives to the event she noted were the long days of sitting and not being able to have in-person conversations during the breakout sessions. Despite these cons, she was able to connect with a new network of professionals that she will be able to bounce ideas off of, ask questions and reach out to for resources.
THE NEW NORM
Virtual events are certainly part of our new normal, and it doesn't appear to be all bad. While we all missed the personal connections of in-person events, the virtual aspect brought us new ideas, new virtual connections and new perspectives from the comfort of our own homes. We recommend attending at least one virtual event before the end of the year. You never know what will come from it.