Tips for Creating Engaging Content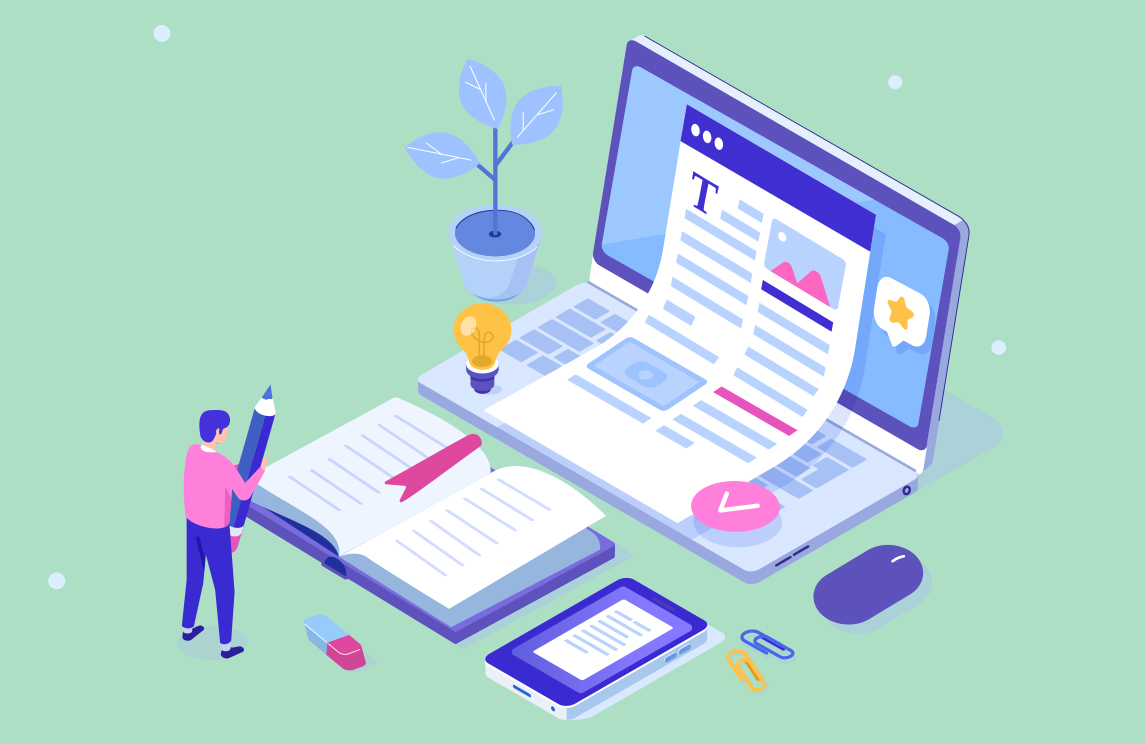 GETTING STARTED WITH CONTENT CREATION
Creating engaging, well-written content is extremely important when it comes to websites and mobile apps. The whole point is for users to find answers to questions they have that will ultimately lead to them making a purchase.
Our content driven design approach requires the copywriting process to start early in the project. You'll want to give yourself plenty of time to gather information for each page, map out the sections, write, review and edit. Leaving content creation to the last minute will make the already overwhelming process feel impossible. Oftentimes, writing copy is one of the most challenging parts of the process for our clients. It's difficult knowing where to start and what to include, so we've outlined some copywriting basics below to help you get started.
CONTENT STRATEGY RECAP
As mentioned in our blog Prioritize Your Content, we take a user-centered approach to our design strategy. Our content driven design approach is about knowing the purpose of each page before designing the templates. By understanding the various content types the site will have, we can plan for unique and customized blocks. So instead of having one standard interior page template, we can create custom templates that showcase each page's content in a visually appealing way.
KNOW YOUR AUDIENCE
The first step in content creation for your website or app is knowing your audience. Who will be visiting your website or app the most, and what type of information are they looking for? Part of our Discover and Scope phases include creating user personas and user journeys for the main audience(s) using the digital product.
A user persona is a semi-fictional representation of your current and target customers.
A user journey is a visual representation of the process a customer or prospect goes through to achieve a goal with your company.
All of the content you create should be written in a way that your audience can understand. Are they part of your industry and understand specific terminology? Or does information about your product or service need to be written in more general terms so your customers can understand it? It's important to show that you can relate to their experiences and understand their needs.
CONTENT OUTLINE
When working with clients, we create a content outline that includes the main navigation, sub navigation and what content will be included on each page. This outline is extremely helpful to understand what kind of content should be included and if there are any visual elements that should be added to the page. Determining the best place to start working on content can be overwhelming, but creating a content outline gives you a map to follow of each page that needs content and an idea of what all to include on each page.
KEYWORDS
Each page of your website or app should include keywords or keyphrases in the headings and throughout the page copy. To determine which keywords you should be using, start by brainstorming all the ways customers could be searching for you: what are they looking for and how are those questions answered. Once you have that list created, use a research tool like Google's Keyword Planner to see how popular each term is and other possible terms people are using for similar searches.
We recommend picking a maximum of three keywords or keyphrases per page to include in the page titles, meta descriptions, headings and page copy. Add the keyword(s) for each page to your content outline so you remember to incorporate the keywords/keyphrases into the page copy when it comes time to write.
CONTENT TO INCLUDE
There are pages on every website or app that visitors look for when searching for information. The lists below include the most common pages and the types of content included on each type of page.
ABOUT
This page gives an overview of the company. It can include various sections, like:
Mission statement
Values
Company story
Who you serve
Team introduction
CAPABILITIES
This page gives an overview of all the products and/or services your company specializes in with a brief explanation of each. If the product or service requires more description than the brief overview, link to the specific page for each product or service from this main capability page for easy access when visitors are navigating the site. It can also list out the types of clients you work with in specific industries and any certifications your company has.
PORTFOLIO
The Portfolio page features your product or service in action. Highlight how your product or service has helped previous clients with project features, case studies and testimonial quotes or videos.
CONTACT
Make sure any prospective clients know how to get in contact with you by including:
Phone number
Fax number
Email address
Office address
Hours
Social media profile links
TONE
When writing the copy for each page you want to use a tone that is direct and conversational. It makes your company more relatable and helps the site or app user envision themself using your product or service. It might take a few tries to find the right balance of conversational and educational. And in certain cases it's okay to break some grammatical rules. Starting sentences with "and" (like in the last sentence), or "but" can help to create that conversational flow. Also, make sure to vary sentence lengths, use contractions, leave out large words or industry jargon and address the website or app visitors directly. A great way to test the conversational tone of something you've just written is reading it out loud. It should sound like something you'd say in a conversation with a friend.
INTERNAL LINKING
Adding internal links to copy helps in two ways.
It helps website or app visitors navigate to related content and prevents orphaned content, which are pages and blog articles that don't have links pointing to them from any other area on the site.
It helps with on-site SEO. According to Yoast 'More links to content tend to indicate quality and relevance, while few or no links tell Google it's less important.
TIMELINE
Set a content creation calendar to help pace yourself while working through the content for each page. Plan to work on 2-3 pages per week so you have enough time to focus on the content while keeping up with other tasks. Creating content for a website or app is not something that can be done in an afternoon and setting a timeline will help keep your content creation on track. You don't want the website or app ready to launch only to have it waiting on content.
ASK THE EXPERTS (AKA YOUR COWORKERS)
If you are feeling stuck or unsure of what to include on a certain page, ask your coworkers for input. Just because you are the company owner or website manager doesn't mean you know the most important information about each product, service, team member, company value, etc. Ask coworkers who work with the products, services, or in customer support what information they think would be most helpful based on interactions they've had with past customers. This will help take some of the burden off your plate in terms of writing, and is also a great way to include information that your target audience will be searching for.
CONTENT THAT SPEAKS TO YOUR CUSTOMERS
The quality of information on websites and apps is just as important as the design and functionality. Ultimately you are the expert on your customers' needs and know what types of questions they will be trying to answer. Use your knowledge of past client interactions, expertise on your product or service and input from coworkers to determine what should be included on each page. Create a timeline with some wiggle room to ensure your content is finished on time and remember to write in a direct, conversational tone to connect with your audience.