Social Media Lessons to Implement in 2021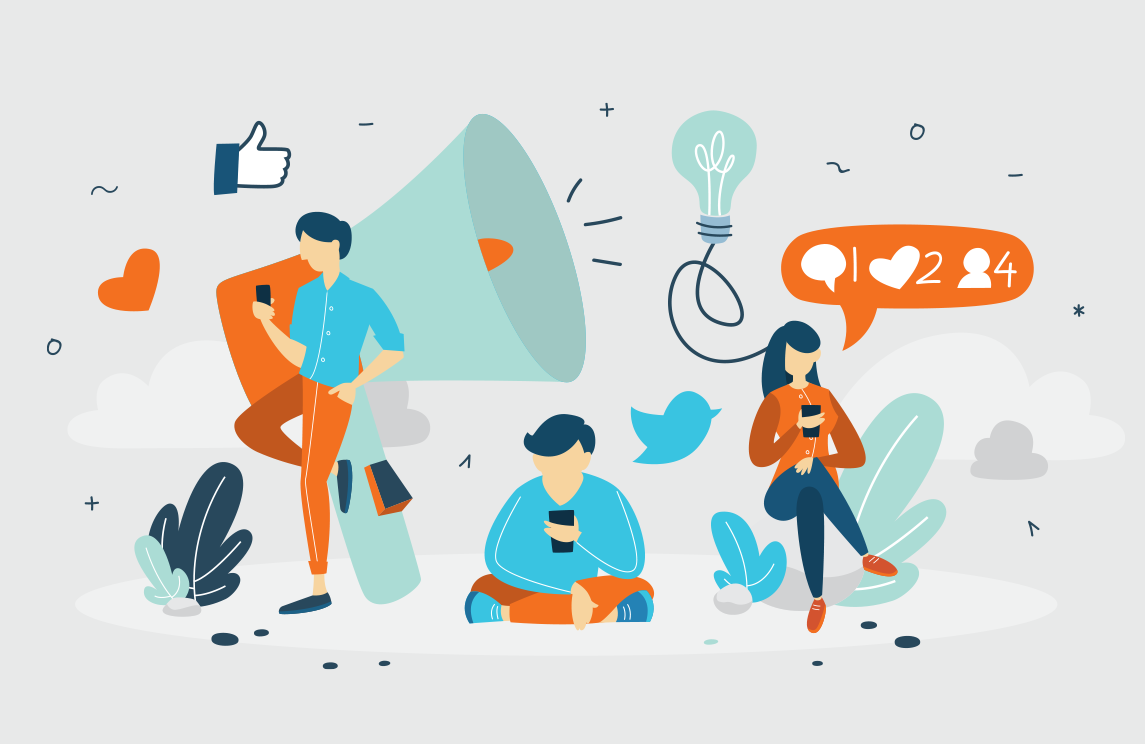 STAYING SOCIAL
Social media played an important role in keeping friends, family, coworkers and companies connected during the shut downs and stay at home orders of 2020. Last week we discussed the amount of people who joined social media this year (over 450 million people) and which social platform consumers trust most to follow their favorite brands (Instagram).
In March 2020, Episerver surveyed 600 B2B decision makers to determine the most commonly chosen online differentiator between their company and competitors. As you can see in the chart below, the majority of respondents chose social media presence.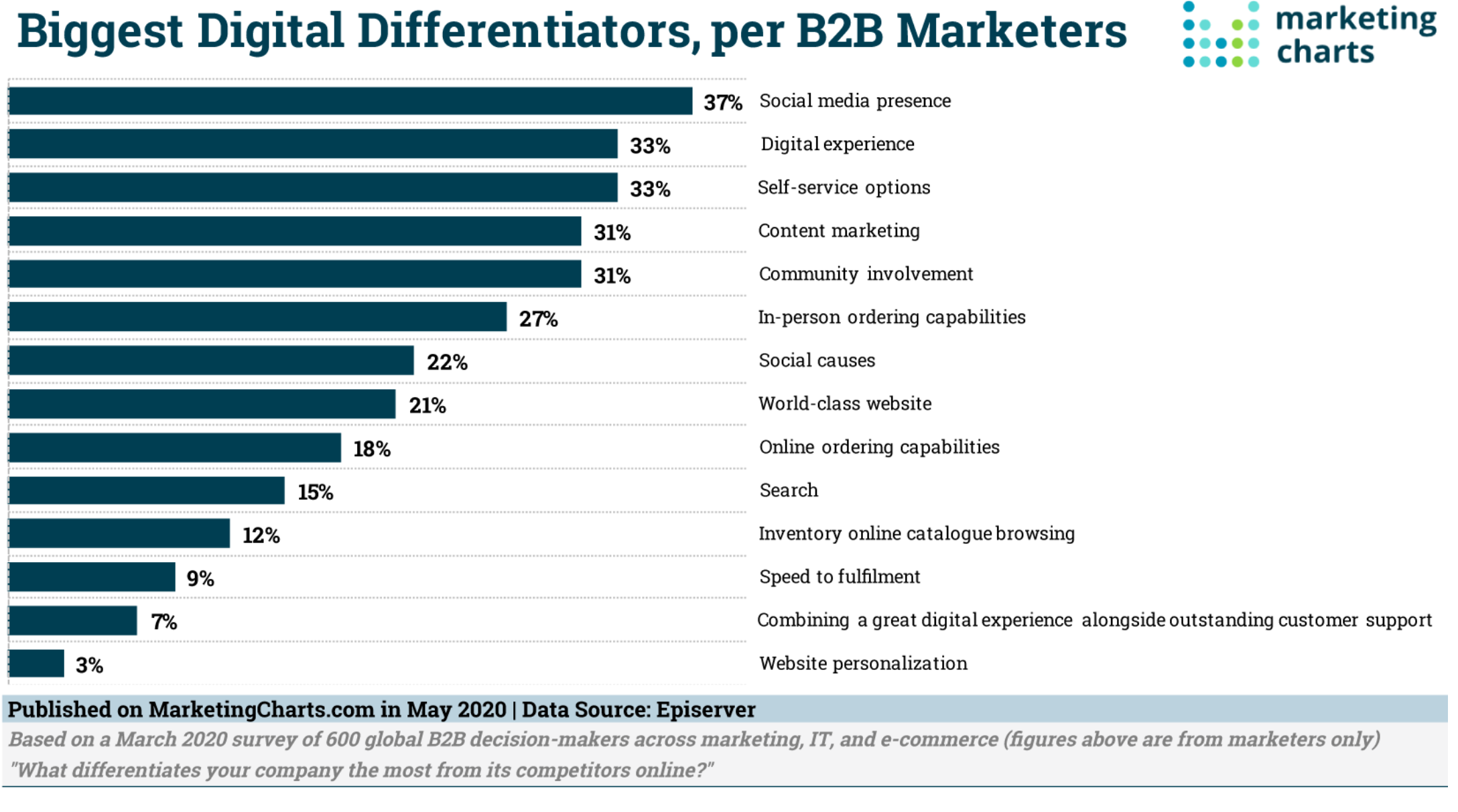 So it is no surprise that companies are planning to increase social media efforts for 2021. A report by Gartner found that 64% B2B marketers anticipate their social marketing budget to increase in 2021. And HootSuite discovered Instagram is attracting most of the increased marketing spend, as the platform saw the biggest increase in users between July and September. Instagram's advertising reach grew by 7.1% in the most recent quarter—more than three times Facebook at 2.2%.
REACH THE RIGHT AUDIENCE
We've already stated social media is an important marketing initiative for companies to focus on in 2021. And while marketers work to put together a monthly social strategy, one very important aspect is often overlooked: the audience. It doesn't matter how many posts go out in a month if it isn't reaching the right people. So how do you know if the right audience is seeing your content? The answer is in data integration.
According to the 2021 HootSuite Social Trends report, 85% of organizations that integrate social data into other systems have confidence in their organization's ability to accurately quantify the ROI of social media. Which in simpler terms means they are talking to the right people on social media. Unfortunately, data integration can be challenging to accomplish, but the report recommends an easier way: incorporating paid ads. The targeting opportunities and detailed reporting metrics that come with paid ads are crucial for delivering relevant content to the right people on social media. Social ads give you the capability to choose demographics, locations, age, hobbies & interests to tweak until you find the right audience. And once you've created the ideal audience, you can create lookalike audiences to reach an even broader group of members in your target audience.
TRENDING REPORT
With a better understanding of the current cultural climate, there are some important lessons to learn from this year and social media trends we can expect in 2021.
LISTEN AND LEARN
A lot happened in 2020: health issues, cultural issues, social justice issues, political issues. It's been a tense year. And a lot of companies felt the need to insert themselves into the conversation early on. But there is absolutely a right and wrong way to do that. How many times early on in the pandemic did we hear "In these unprecedented times, buy a [fill in the blank]." A few too many times, and it eventually became comical. No matter how badly companies want to be relevant, the reality is most consumers don't necessarily care. The companies that succeeded this year are the ones who took a step back, listened and then found a way to fit into the conversation tastefully rather than trying to lead it. And that trend is going to continue on into 2021.
ECOMMERCE
We can expect to see an increase in the ability to easily shop on social platforms. Both Facebook and Instagram have enabled easy shopping on their platforms with the introduction of Shops. These storefronts simplify the process of building an eCommerce page. Facebook explained the concept by saying:
"Facebook Shops make it easy for businesses to set up a single online store for customers to access on both Facebook and Instagram. Creating a Facebook Shop is free and simple. Businesses can choose the products they want to feature from their catalog and then customize the look and feel of their shop with a cover image and accent colors that showcase their brand. This means any seller, no matter their size or budget, can bring their business online and connect with customers wherever and whenever it's convenient for them."
With the increased need for a digital shopping presence for so many small businesses, this will help them reach customers on a familiar platform.
CREATE NEW EXPERIENCES
So many experiences were lost in 2020. Large and small, from vacations and family gatherings to browsing the aisles at a store with friends. As marketers, we need to find a way to create experiences for our customers. Something more exciting than an "Add to Cart" that will help them connect with your brand again. Livestreams and videos are a great way to show the human side of your brand on social media. It shows the people behind the platform and creates a dialogue to break up the passive post reading that normally happens. It also gives you the opportunity to engage with followers on social media. Ask them what type of video content they want to see. Is there a product or service demonstration they are interested in? Looking for recommendations from employees? Anything that will spark a memorable interaction with your brand.
MOVING FORWARD
While we don't always like the overly connected, easy accessibility of social media, 2020 showed us its importance. Hopefully 2021 will see a return to some sort of normalcy. But for now we have a sense of direction and some important social media lessons to bring with us heading into the new year.