Streamline Post-Merger Operations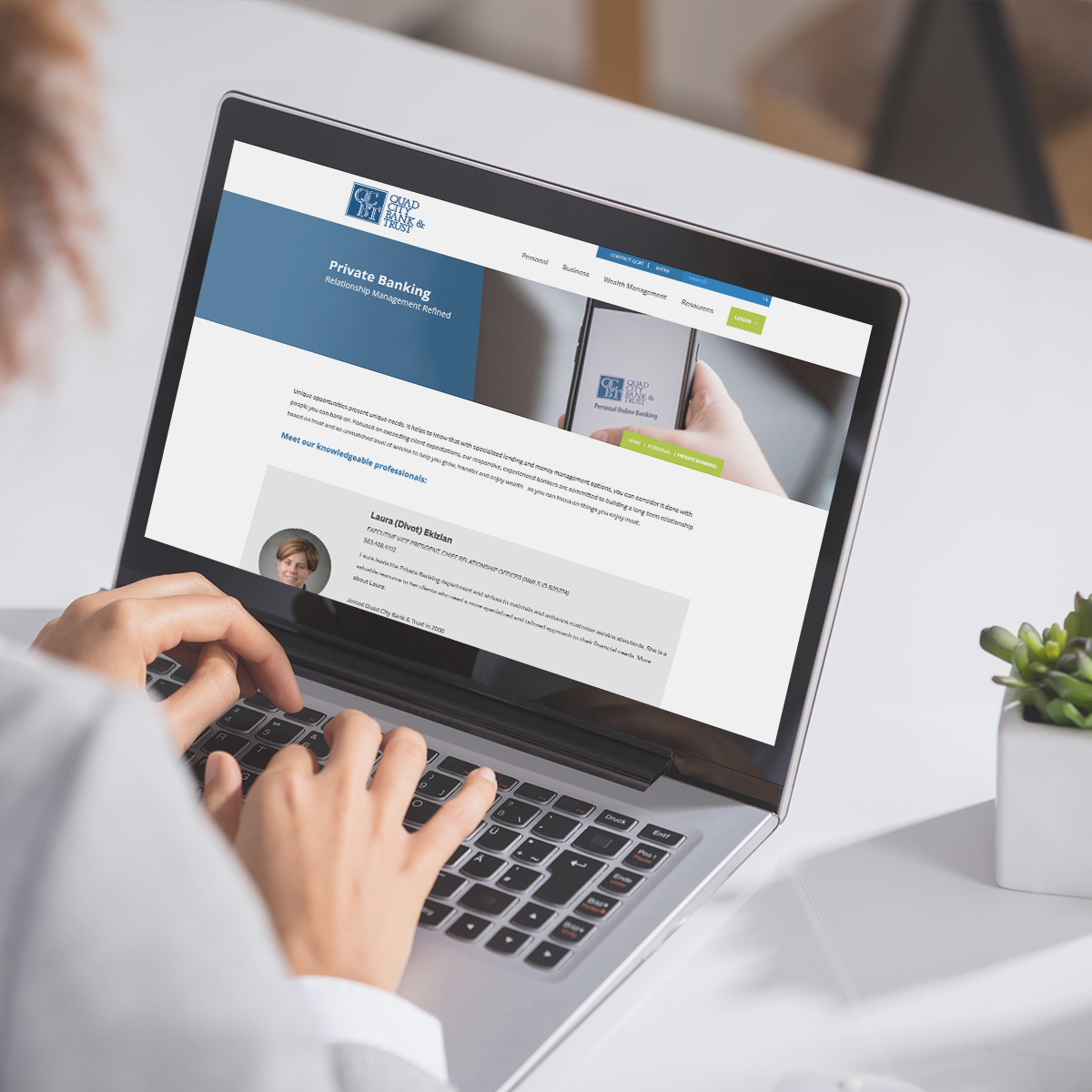 OVERVIEW
Quad City Bank & Trust has developed a streamlined approach to post-merger operations. One of the core functions of the post-merger process is to roll the newly acquired website into the Quad City Bank & Trust infrastructure, including updating the website with the custom backend content management system, branding and employee training. This process, which used to take upwards of 180 days, now takes only 60 days to complete.
ABOUT THE ORGANIZATION
QCR Holdings is a regional, full service financial institution, with 6 independently operated and governed institutions around the Midwest. These institutions include:
Quad City Bank & Trust
Cedar Rapids Bank & Trust
Community State Bank
SFC Bank
Community Bank & Trust
Rockford Bank & Trust
THE CHALLENGE
Mergers and acquisitions are a reality in the financial services industry. And in the months following a merger, there is an overflowing checklist of time sensitive projects to tackle. The main focus is usually on the core conversion, but that isn't the only important part of post-merger operations. Customer perception of the new brand is equally important. And a long, drawn-out process to get customer facing tools updated can cause confusion and a loss of trust in the banks' customer base.
THE SOLUTION
A completely customized content management system for front facing, client facing digital tools, with custom functional specifications designed to make the website easy for content managers to edit and all necessary departments to review.
THE IMPLEMENTATION
The Terrostar team created a completely customized content management system that gives content managers at each bank the capability to edit the websites in real time. Editing capabilities include:
Add and edit pages
Edit content on each page
Update images
Edit site taglines
Add and remove homepage alerts
Edit contact information
Update copyright strings
"Member FDIC | Equal Housing Lender"  logo toggle
All of the websites share the same feature set and complementary design to ensure they are on-brand, which helps to quickly update a newly acquired bank website. With the help of SiteImprove, the websites are continually monitored to ensure they remain compliant with ADA standards.
THE RESULTS
The customized content management system has allowed QCR Holdings to increase efficiency of post-merger operations and decrease the time spent updating customer facing digital tools by four months.
"Prior to the Terrostar partnership, we were taking about six months to roll a bank onto our platform," said Josh Dyer, Visual Brand Manager for QCR Holdings. "Over the years with Terrostar we've developed several processes that we are targeting now to bolt on or divest the bank within 60 days and we are able to train the new employees in a matter of days."
The partnership, which has been in place for the past 10 years, has allowed both the Terrostar team and the QCR Holdings team to work together and address new opportunities, like post-merger operations, to ensure each digital enhancement is the best possible solution.