Complete Your Content Strategy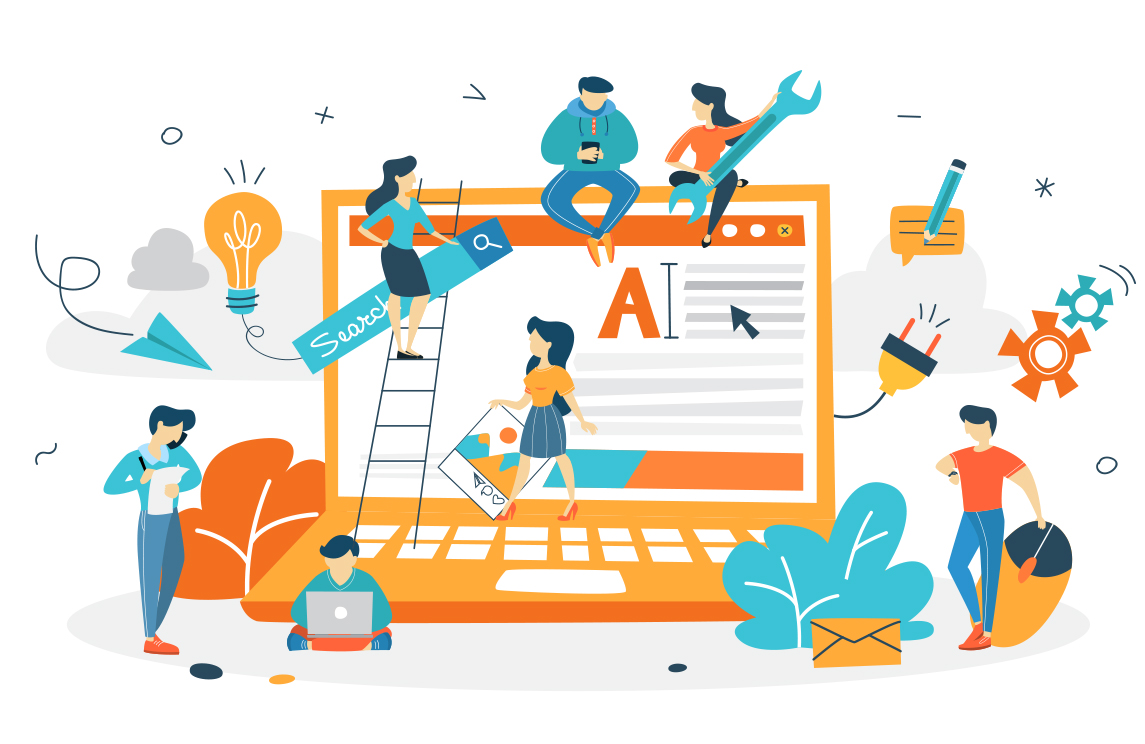 Auditing Old Content
So often we focus on creating unique, engaging content that will drive traffic to your website, like in our recent blog article Tips for Creating Engaging Content. It's an important part of marketing your company and establishing your brand as a thought leader in your industry. But creating content is only half of a complete content strategy. The other half is auditing existing content and knowing when a blog article, a phrase, or a pillar of content should be repurposed or retired.
Old content and outdated ideals can exist anywhere on your website, like in blog articles, product or service pages, or the team section of your About page. If old content is left unchecked, it can be confusing or distracting for people visiting your website or app.
Know Your Audience
Before auditing your existing content and content strategy, it's important to understand who your audience is. This will help you determine what should be updated and what can stay the same. Creating user personas will help identify the content that will be most useful to your audiences. A user persona is a semi-fictional representation of your current and target customers. User personas will help you map out your target and secondary audiences. Start by gathering information like industry, job title, values, and barriers and organize the information into a list like the one below:
Target Audience A
Name – Business Owner Bob
Income Level – $100 – $120K
Gender – Male
Job Title – President
Values – Professionalism, Service
Barriers – Does not have a lot of time to spend searching for business loans
These generalizations will help with content pillars and topics for resources like blog articles and what should be the main focus on product or service pages. And having this user persona information documented will help future content audits.
Understand the Analytics
Once you have your user personas complete, the next logical step is to understand where visitors are spending most of their time on your website. Google Analytics is an incredibly useful tool, as it will tell you how visitors are entering your site, what pages they visit and for how long, and where they exit the site. There are a couple of sections that will be most helpful for understanding your audience and what they are trying to accomplish on your site.
Audience
The Audience section goes into a deeper dive into audience demographics for a longer period of time than the Realtime section. This area allows you to choose your date range, so you can compare days, weeks, months, years. The Overview subsection gives a detailed breakdown of how many users visited your site during your selected timeframe, the number of new users, sessions, pageviews, average session duration, bounce rate, and the percentage of new vs. returning users.
If you see a day with a particularly high number of visitors, investigate what went on that day. Did you publish a new blog article, launch a new product, start a digital ad campaign, or a successful social post? Whatever caused the spike in traffic, try it again to see if you see the same spike in engagement.
You can also find out helpful demographic information like gender, age, interests, and geographical location to make sure your target audience is who you think they are.
In the Behavior subsection, data is broken out by New vs Returning user, Frequency & Recency, and Engagement. This can help to determine if current customers are returning to your site looking for more/products and services. If the Returning Visitor number is relatively low, what can you do to increase it? Creating a customer-specific area of your website will attract current customers and also show prospective customers you provide service and insight beyond the sale of a product or service. The Engagement subsection breaks out the number of sessions by duration. This information is helpful to know how long visitors are spending on the site. If you have a high number of visitors but most of them fall into the 0-10 second bucket they aren't taking the time to look around your site and research your product or service. Refreshing the content, making your information more clear, personal and relevant to your target audience will help increase the session duration.
In the Mobile subsection, the Overview shows you the number of visitors per device: desktop, mobile, and tablet. If the number of mobile visitors is low, make sure your site is responsive and optimized for viewing on mobile.
Behavior
The Behavior section shows you how visitors are navigating through your website. The Overview subsection shows how many page views have occurred in the selected time frame, average time on page, bounce rate, the top ten pages on your site with the number and percentage of page views for each of those pages, and a line graph showing the number of page views for each day.
The Behavior Flow subsection shows you the most common paths users take through your website. You can see the most common starting pages and the pages where most people drop off.
The Site Content subsection shows analytics for the top ten pages on your site, including page views, average time on page, entrances, and bounce rate. This information will help you understand where visitors are spending most of their time. If there is an important page on your site that is underperforming this data will tell you, and you can work to increase the pageviews by updating the content on the page to be more relevant to your target audience.
Start Simple
Now that you've identified the user personas and reviewed the analytics, it's time to jump into the audit. The idea of starting a content audit, much less doing one regularly, can seem like an overwhelming project. Especially if you're dealing with a well-established digital presence that has been regularly producing content for years. So it's important to identify an easy-to-follow process for your team.
The Pages
We recommend starting with your main navigation pages. These are the most public-facing pages on the website and most likely where a new website visitor will start when navigating your website. If a new potential customer lands on your website you don't want them to make a decision about your company based on old information. Look for things like outdated tactics or processes on product or service pages and make sure your team page is up to date. It's common to think about these pages when the website is first launched and then not touch them again until the next website redesign, so implementing a process for auditing existing content is important to map out.
The Timeline
Unless there are major changes happening in the company, these aren't pages that need to be checked every week. Twice a year, the beginning of the year and mid-year should be sufficient for keeping these main navigation pages up to date.
Resource Overhaul
So many companies strive to post new blog articles or resources as often as possible, but once the piece is published it's forgotten and buried by newer, more recent posts. Keep that up for years and you have pages and pages of old articles published years ago, by employees no longer with the company about tactics and ideas that have since been updated.
Repurpose or Retire
Not everything on the blog or resource section from years ago will need to be removed. A lot of it can probably be updated to include relevant information. This is a great place for content marketers to look when trying to find content to repurpose. So before going through each article, decide on the parameters of what should be repurposed and what should be retired.
We recommend starting with an 'articles to remove' list. Anything that is out-of-date or no longer relevant to your process, products, or services. Just make sure to update any URL redirects to minimize broken links and 404 errors. Also, make sure no one in the company is still using the article.
Next, move on to identifying ways to repurpose the remaining content. Some of the articles won't necessarily need to be updated and can be sent as-is. They've just been buried under pages and pages of new articles and need help getting in front of your target audience(s) again. If an article does need to be updated, add the article to a working list with notes for updated ideas. This will help you keep articles and ideas organized as you start working them into your content strategy. This will also help you notice patterns in the articles.
This article from Social Toast recommends the rule of 25%, which states you can add legacy content into your content distribution strategy in four ways:
Reposting the content as is (only suitable for your email and social media efforts)
Updating the legacy content with new stats/best practices
Remixing the legacy content into a new media format (turn your written blog post into a video or infographic)
Stitching together two pieces of older content into brand new pieces
Full Circle Content Strategy
So often we think about updating content only when updating a website or mobile app, but it's really a process that should be included in every content strategy. Identifying a process for removing or reusing legacy content will help reduce the risk of confusion for new visitors to the site and also provides your marketing team with a new outlet for distributing content.